Luke and Caroline have been planning their 12-month overseas travel adventure for some time. They wanted to ensure they had their mortgage covered, whilst having some flexibility to return to their property if they needed to. Their main concern: how to chose the right holiday home management.
The apartment
Location: West Kensington, London
Surface: 1100 sq. ft
Start of management: May 2019
Type: 2 bedroom apartment
Rental yield too low and concerns about damage
After doing a bit of research, they found that a traditional rental would not be enough to cover their mortgage. Their mortgage is approx. £1850pcm, and the value of their property on the long let market is £1800pcm.
As the apartment is their main residence, they want to ensure the safety of their property, and they've also heard many stories about tenants refusing to pay their rent or to vacate the property.
Managing their Airbnb while being on vacation
Luke and Caroline also wanted to ensure their apartment was being looked after whilst they were away. For instance, they want to make sure not to have to deal with maintenance while they are relaxing on the beach.
Extra income to spend money abroad and enjoy their travel would also be a bonus too.
They both contacted us in April 2019, to see if there was a way they could increase their rental income, but also have their risk managed by a professional management company.
The implementation of a tailor-made strategy with our holiday home management
After speaking with our lettings experts, our team implemented a strategy for Luke and Caroline. Together, we setted the following goals:
Increase rental income over their 12m period to cover their mortgage, bills, and offer them a little extra.
Vet each and every guest stay and take care of their property while they are away (housekeeping, linen, maintenance, guest communications, etc..)
We first took beautiful professional photography of their property. And then, ensured their property was given full marketing exposure on best platforms: Airbnb, Booking.com, Tripadvisor and Vrbo etc.
The end results: mission accomplished !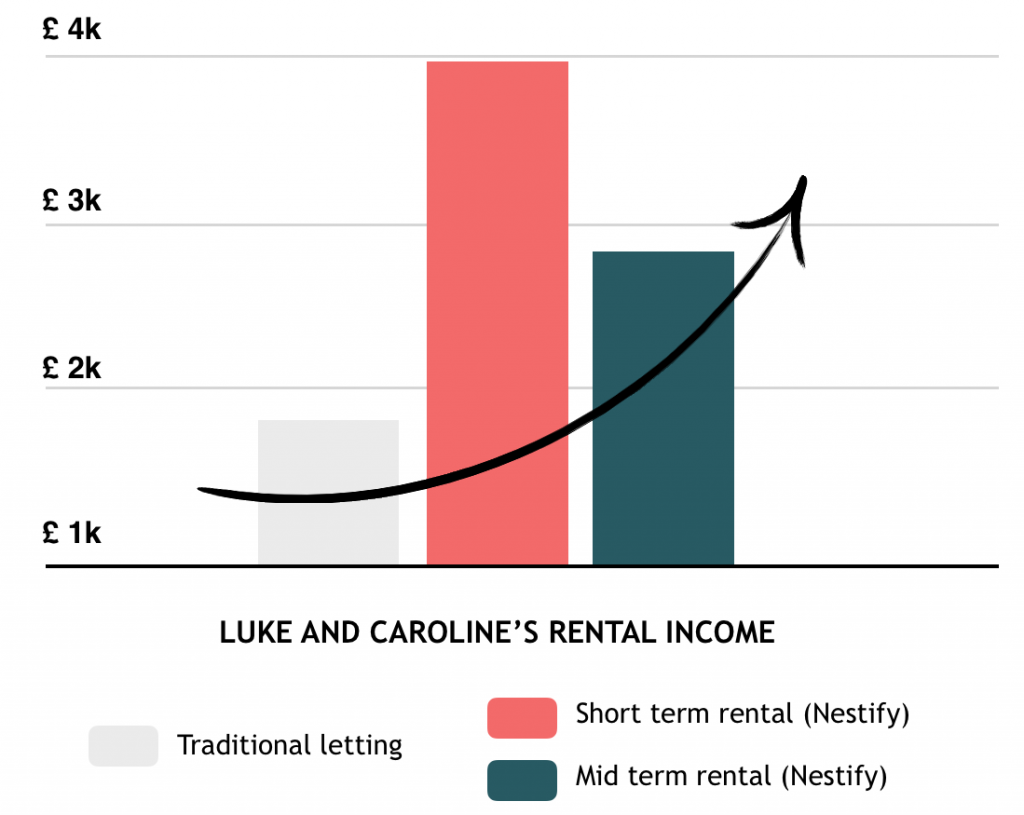 In just a few hours after publishing their property, we received their first booking on Airbnb. And then, the property was quickly booked as summer approaches. With an average daily rate piquing at £210 per night, their rental income was over 3 times higher than traditional lets.
Previous reviews, ID checks, the reason for stay's: each guest has been vetted under some of these criteria. We also requested a deposit, to cover costs in case of damages.
What's more? During the winter months, our sales team also secured a medium term let of 4 months at £2570pcm. To who? Two German computer engineers working on a short project in central London.
Our team thoroughly checked their working references. We also requested the 4 months rent to be paid upfront for the term, to guarantee a 0 risk of non payment
In addition; our check-in services, professional maintenance, and Nestify tech-infused housekeeping gives Luke and Caroline a complete peace of mind. They are guaranteed that their home is in good hands all the time.
Finally, their personal landlord dashboard gave them full access to their bookings and calendar. Then, they had the possibility to block dates anytime they were travelling back to London for a few days. They also had a view on each booking and monthly income from anywhere in the world.
Thanks to our full service, their rental income was high enough to cover all their expenses (mortgages, bills, travel and personal expenses) all over the 12 months . Luke and Caroline were able to enjoy their vacation in peace knowing that our experts are managing their Airbnb care of their property as well as their guests.