Nestify, our Airbnb Management at your service.
We know how stressful hosting can be, we've done it ourselves. We offer you complete management so you never have to do it again.
Nestify is first and foremost a team of experts, who tailor its strategy to your needs and goals. Our strategy combines the best of technology with our knowledge and experience, to create a high-end and personalized experience for our landlords and their guests.
We typically deliver 30% more rental income to property owners compared to regular, long-term lets. Remove the stress, and let our full Airbnb property management service give you back time, so you can spend it doing the things you love.
Attractive listing creation and professional photographs

Daily price adjustments

Guest check-in and check-out

Booking request management and guest communication 24/7

Guide and instructions specific to your property

Hotel services: fresh linen, quality cleaning, toiletries refill

Maintenance and assistance 7 days a week
MAKE MORE MONEY
Hosts can earn 70 - 120% more than renting their home residentially. We optimise the pricing to ensure maximum earnings.
STRESS FREE
We handle everything for you. Guest communications, 24hr check­-in, cleaning, linen, restocking and more.
FLEXIBLE
It's your home. Rent it on your terms. You decide when the property is available for bookings.
Your trusted short term rental management in London
London is one of the most stunning, vibrant and cosmopolitan cities on the planet. Also, the population is around 9 million people making it one of the most diverse. With a third of Londoners being born elsewhere and over 300 languages spoken, the capital of the UK is multicultural, international and offers something for everyone. Whether you're searching for art, music, fashion, food, history, architecture or sport, London will deliver.
With its Roman roots and modern mentality, even the most discerning visitor can find something to love amongst London's wide range of charms. Even choosing how to travel around it is a tourist's delight; will you take a black cab? A London bus? Take the iconic underground? Or simply stroll along the famous streets looking for red telephone booths, bustling markets or street art? A city of abundance and variety London is not a place you'll forget easily!
Nestify can provide Airbnb hosts with a service they can trust. We are a reputable Airbnb management service in London that will be your perfect companion. Taking care of all your rental details for you.
With five airports plus international train lines, London is an easy place to get to. This might explain why tourists flock here in such huge numbers. Over 20 million overseas visitors arrived in 2019 making it the most visited city in the UK by a long, long way. In turn, it also makes it an excellent location for Airbnb hosts.
Whilst visiting London those tourists spent a whopping 15 billion pounds on accommodation, activities and retail. With that in mind, it's not surprising that tourism remains one of the fastest-growing industries in Britain and is why holiday and short-term rentals continue to be in such high demand.
Planning on visiting Big Ben? Well, that's actually just the name of the bell within the clock and not the clock tower itself. That was imaginatively named the Clock Tower until 2012 when it was renamed Elizabeth Tower in honour of Queen Elizabeth.
If the next stop on your list is feeding the birds in Trafalgar Square, I'm afraid you can't. Since 2003 it's been illegal to feed the pigeons so you could face a £500 fine if you get caught breaking the law.
However, if you're disappointed by that, why not feed a parakeet instead? Flocks of the jewel green birds are a strange but common sight in certain areas of London. Why not head to Kensington Gardens and see if you can tempt them down from the trees?
If all that feeding of the parrots makes you peckish, you can pick up a scotch egg from Fortnum and Masons. (According to them) They were the original inventors of the picnic favourite in the 1700s. Meaning the humble scotch egg isn't Scottish at all but from a Londoner!
London is a city that knows how to party. Indeed, this is most evident from every major date in the calendar being celebrated in style. That's not to mention the festivals, concerts, gallery openings, theatre productions and sporting events that take place all year round.
However, if you're looking for a quintessentially London experience why not visit during Wimbledon or the Notting Hill Carnival? How about visiting Kew Gardens at Christmas, catching the BBC Proms in the park or celebrating Diwali in Trafalgar square? Or for a real sense of tradition and military splendour, watch the Trooping the Colour ceremony held in honour of the Queen's Birthday.
Chances are you're familiar with London's main attractions such as the Tower of London, Buckingham Palace or the Houses of Parliament. However, it's also worth doing some research and finding out about a few of London's more hidden gems.
These include things such as being able to take a yoga class beneath the blue whale inside the Natural History Museum. If that isn't appealing you can take a walking tour through Soho and Convent Garden. There you might spot the strange and secret sculptures hiding amongst the buildings. Also, you can visit the fake houses in Leinster Gardens or the Brixton Windmill or hunt for the hidden chamber under Tower Bridge!
Whatever you choose to do with your time in London you won't struggle to fill it. Your biggest struggle will be planning another visit to do everything you couldn't fit into this trip!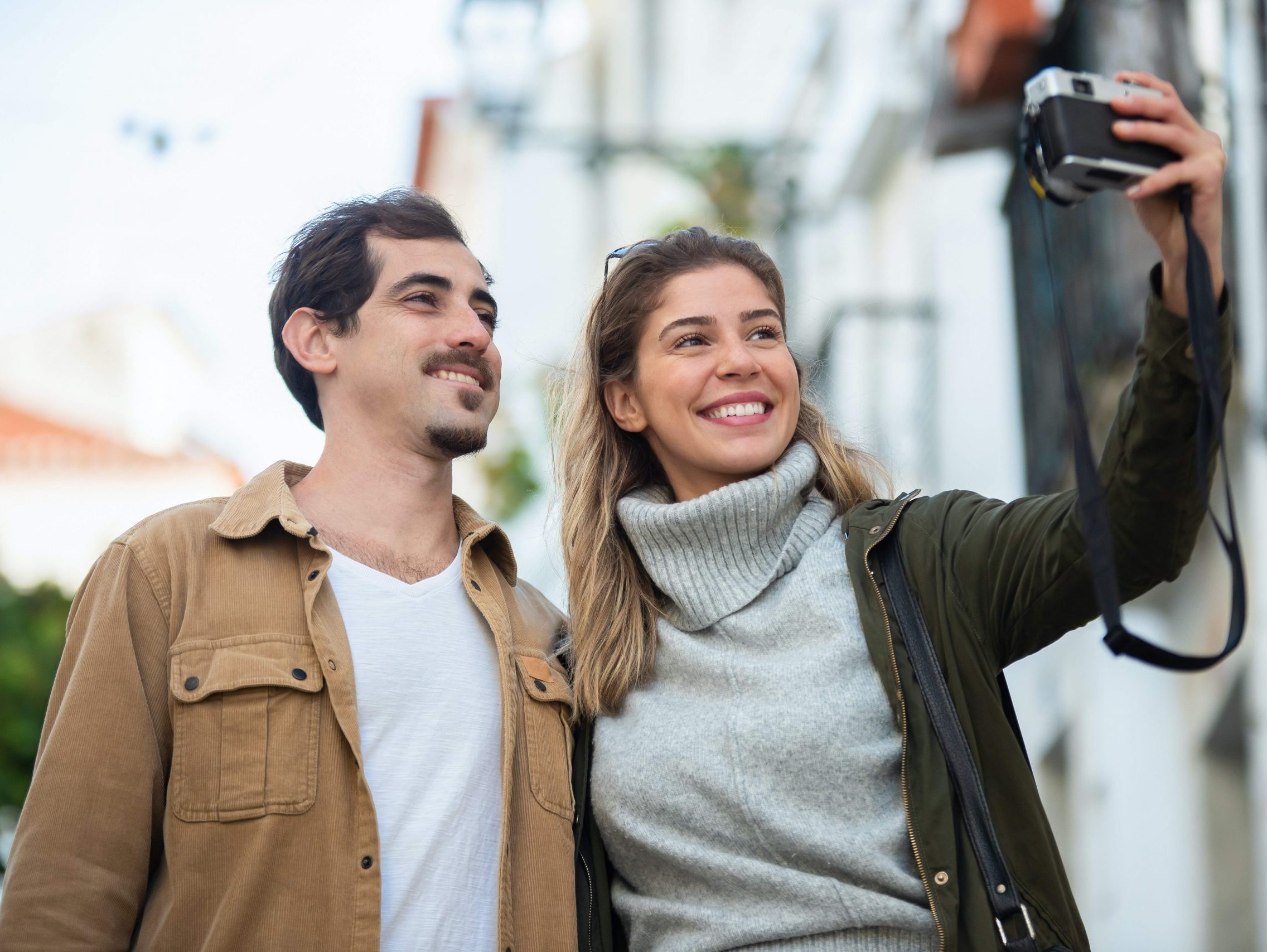 The story of Luke and Caroline
Luke and Caroline fund their overseas trip thanks to their 2 bed flat in London
They have been planning their 12-month overseas travel adventure for some time. They wanted to ensure they had their mortgage covered, whilst having some flexibility to return to their property if they needed to.
Increase your rental incomes in London
Get your instant estimate of how much your property could earn.
Tailored letting strategies, combining short and mid-lets to help increase your income up to 30%
Powerful host dashboard, where you can view your earnings and control your calendar.
Dedicated Account Manager with expert knowledge of our product and the market
In short
Are you looking to rent your property in London, but don't want the stress of short-term rental?
Trust Nestify – the Airbnb property management in the UK: We are specialists in flexible letting management: holiday and medium term let. Our teams take care of everything from professional photos, listing on the best platforms, price optimisation, guest communication and vetting, property maintenance, housekeeping and more.
Increase the profitability of your properties in London with our complete Airbnb Management service!