Nestify, our Airbnb Management at your service.
We know how stressful hosting can be, we've done it ourselves. We offer you complete management so you never have to do it again.
Nestify is first and foremost a team of experts, who tailor its strategy to your needs and goals. Our strategy combines the best of technology with our knowledge and experience, to create a high-end and personalized experience for our landlords and their guests.
We typically deliver 30% more rental income to property owners compared to regular, long-term lets. Remove the stress, and let our full Airbnb property management service give you back time, so you can spend it doing the things you love.
Attractive listing creation and professional photographs

Daily price adjustments

Guest check-in and check-out

Booking request management and guest communication 24/7

Guide and instructions specific to your property

Hotel services: fresh linen, quality cleaning, toiletries refill

Maintenance and assistance 7 days a week
MAKE MORE MONEY
Hosts can earn 70 - 120% more than renting their home residentially. We optimise the pricing to ensure maximum earnings.
STRESS FREE
We handle everything for you. Guest communications, 24hr check­-in, cleaning, linen, restocking and more.
FLEXIBLE
It's your home. Rent it on your terms. You decide when the property is available for bookings.
Your trusted short term rental management in Cambridge
The city of Cambridge is a historic, gothic city located on the River Cam. Set in the beautiful shire of Cambridgeshire in the eastern part of England. It is home to the famous and prestigious University of Cambridge. This famous building opened its doors to the first students all the way back in 1209.
Nestify can provide Airbnb hosts with a service they can trust. We are a reputable Airbnb management service in Cambridge that will be your perfect companion. Taking care of all your rental details for you.
Not only is Cambridge a beautiful University city but it also houses a large multicultural population of over 125,000 people. Making it a quaint but lively University city. The gothic streets of Cambridge make this place a very popular location. With tourists homegrown and worldwide alike. Recent stats have shown that Cambridge regularly receives over 9 million tourists year in and year out.
The tourism industry is a key driver and factor in the Cambridge economy. Bringing in over £850,000,000 every year and accounting for around 23% of the employment sector. From supplying jobs in hotels, restaurants and bars to local attractions and public transport.
For this reason alone this makes Cambridge the perfect place for landlords to rent out their Airbnb properties. Short-term and mid-term all hosted managed and professionally looked after by Nestify. Your one-stop for rental management in Cambridge.
Every year since 1829 there has been a fierce fort Boat race that has taken place between Cambridge and Oxford. On the River Thames is where this is taking place and draws in 6.2 million viewers worldwide!
Other annual events in Cambridge include the world-famous horse racing events at Newmarket. One huge event that is taking place in Cambridge is 'The Continental Circus Berlin'. On Midsummers Common is where they are holding it. They will be offering free tickets to NHS staff and care workers.
Locals and visitors to Cambridge will be happy that this year sees the carefully planned return of the annual free outdoor concert. Here there is music in the parks which the Cambridge City Council has helped organise. Also, the Cambridge Union has arranged for Anne Widdecombe, former MP, to come to the university. There she will be holding a debate about abortion. This promises to be extremely lively with a huge audience in attendance.
Cambridge University has produced more Nobel Prize winners than any other institute in the world. With 32 alone in the field of physics. But affiliates have received prizes in every other area that exist as well.
Nobel prize-winning Cambridge is also the city where they were playing the first-ever game of football using Association rules. They were known as the Cambridge Rules and the venue for this historic game was called 'Parker's Piece", Cambridge 1848.
As well as hosting the first-ever Football Association match, Cambridge city itself dates back to the early Bronze Age. But the settlement itself with the study and help of archaeological finds show that it dates back to prehistoric times. But it didn't go by the name of Cambridge until the middle ages.
Not only is Cambridge very famous for hosting the first game of Football. But the biggest appeal this great place has is the world-famous Cambridge University. Founded in the year 1209, and they were forming the first of its colleges a few years later in 1248. This was thanks to the Bishop of Ely and a charter from King Edward I.
There are also some of the top-rated tourist attractions in Cambridge apart from the University. The city holds claim to having the highest amount of preserved historic buildings anywhere in England. They include the 800-year-old Midsummers Fair. They are still holding this in the same place as when it started on Midsummers common all those years ago.
Then there is the gothic buildings of Kings College and Kings College Chapel founded in 1448 by King Henry VIII. Not to mention the Queen's College Mathematical Bridge founded by Andrew Dockett in 1448. This was made under the patronage of the wife of King Henry VI. You also can't forget another amazing place which is the University Botanic Garden. This was established in 1831 and is covering 40 acres. You can be viewing an amazing variety of over 8000 different species from all around the world.
Plus hundreds of other unforgettable breathtaking attractions to be seen. It has been said when a visiting tourist leaves Cambridge, they leave their heart behind and their soul always feels the need to come back. If you set up camp as an Airbnb host in the city, at Nestify we can give you the best rental management in Cambridge.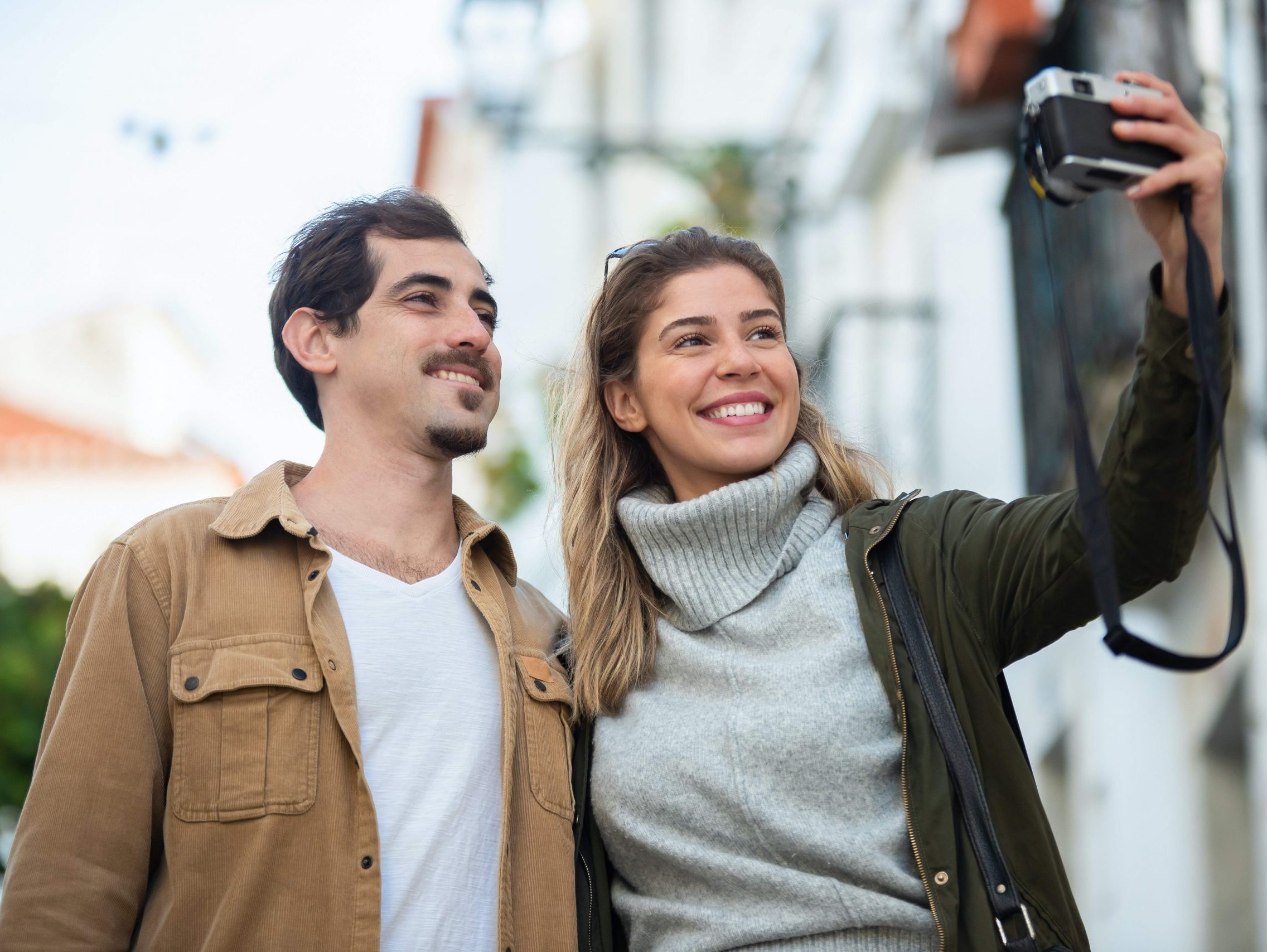 The story of Luke and Caroline
Luke and Caroline fund their overseas trip thanks to their 2 bed flat in London
They have been planning their 12-month overseas travel adventure for some time. They wanted to ensure they had their mortgage covered, whilst having some flexibility to return to their property if they needed to.
Increase your rental incomes in Cambridge
Get your instant estimate of how much your property could earn.
Tailored letting strategies, combining short and mid-lets to help increase your income up to 30%
Powerful host dashboard, where you can view your earnings and control your calendar.
Dedicated Account Manager with expert knowledge of our product and the market
In short
Are you looking to rent your property in Cambridge, but don't want the stress of short-term rental?
Trust Nestify – the Airbnb property management in the UK: We are specialists in flexible letting management: holiday and medium term let. Our teams take care of everything from professional photos, listing on the best platforms, price optimisation, guest communication and vetting, property maintenance, housekeeping and more.
Increase the profitability of your properties in Cambridge with our complete Airbnb Management service!